Filmmaker's Statement
Rebecca Haimowitz & Vaishali Sinha are documentary filmmakers committed to creating work that shows the human stories behind this complex, sometimes controversial subject matter. As an American and an Indian working together, we bring different perspectives to the film, a dynamic that has us both asking harder questions, digging into deeper emotional responses.
As women deeply interested in issues of reproductive rights, social justice and global issues, the subject of "outsourcing" surrogacy to India captivated us from the moment we first read about the practice.
We aim to create a film that goes beyond sensationalist headlines and uncovers the personal lives and choices of the surrogates and the infertile Americans involved.
The Filmmakers
Rebecca Haimowitz
Co-Director, Producer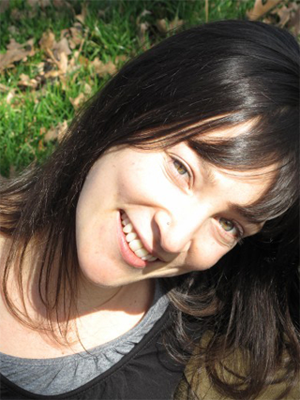 Rebecca Haimowitz received her MFA in Filmmaking from Columbia University's Graduate School of the Arts, where she was awarded Faculty Honors and also worked as a Screenwriting Instructor. Her short film, Follow Me, screened at several international film festivals (including SXSW and Woodstock International Film Festival). Rebecca has Directed several documentary films, including a piece about a summer camp for autistic children, a youth-produced series on over-policing in NYC schools (funded by the NYCLU), and a work-in-progress called Soundproof, a personal film about deafness in her family (recently featured on NPR's "Weekend Edition" website).  Rebecca is committed to creating films that reveal the human side behind social and political issues. She lives and works in Brooklyn, NY.
Vaishali Sinha
Co-Director, Producer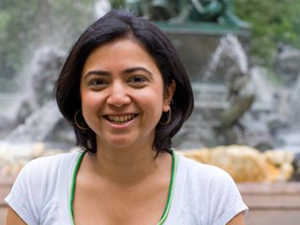 Vaishali Sinha co-directed the short documentary, "Red Roses," exploring the lives of South Asian women who come to the United States via marriage & family obligations, and "Choose Life?" a short narrative about abortion and personal choice. She is also currently co-directing the film "Kashmir"- personal narratives of university students of Kashmir, at the brink of graduation in this extremely contentious and politically troubled State of India. In the past she has worked as researcher and editing associate for filmmaker Richard Wormser at Videoline Productions. She has also worked for non-profit organizations in India promoting women's voices and has studied film at the New School University in NY. Vaishali uses filmmaking as a platform to explore and discuss socially sensitive issues. She is from Mumbai, India and currently resides in Brooklyn, NY.
Co-Executive Producer
The Fledgling Fund seeks to improve the lives of vulnerable individuals, families, and communities by supporting innovative media projects that target entrenched social problems.
Co-Executive Producer
Chicken & Egg Pictures is a hybrid film fund and non-profit production company dedicated to supporting women filmmakers who are as passionate about the craft of storytelling as they are about the social justice, environmental and human rights issues they're embracing, translating and exploring on film.
Erin Heidenreich
Executive Producer
Erin is a producer on several documentary and feature film projects in production. She is also directing a documentary about children currently suffering from exposure to Agent Orange in Vietnam. She is a Programmer for the Bali International Film Festival and has been featured in several publications, and an invited guest lecturer at Columbia University, The New School and Yuncheng University in China. As one of the founders of Cinetic Media in 2001, Erin helped grow the company into the largest independent sales and financing outfit representing hundreds of successful and award winning films including "Super Size Me" - Academy Award Nominee, "Little Miss Sunshine" - Academy Award Winner, "Capturing the Friedmans" - Academy Award Nominee, "Spellbound" - Academy Award Nominee, "Jesus Camp" - Academy Award Nominee, and "Napoleon Dynamite". Erin began her career in marketing at Miramax Films and is a graduate of Northwestern University.
Myles Kane
Editor
Myles Kane lives and works in Brooklyn, New York, as a filmmaker and freelance video editor. He co-founded the Brooklyn Underground Film Festival in 2002 and served as the Festival Relations Director for five years. For the past six years, he's worked as an editor for BBC News and various television programmes. In 2007 he served as editor on the documentary We Are Wizards. He is currently working on his second feature film.
Amritha Vaz
Music Composer
Trained from a young age in western classical piano and violin, Amritha's broad interests eventually drew her to Bangalore, India, where she studied carnatic violin from ages 18-20. Exploring and studying these diverse musical styles, she has developed a worldly and unique voice. Recently relocated to Los Angeles, she has been privileged to work under the guidance of Mychael Danna most recently gaining experience with him on Robert Schwentke's "Time Traveler's Wife" and Terry Gilliam's "The Imaginarium of Doctor Parnassus". She has lent her talents to film music in her own right, having worked on a number of feature films including Deepa Mehta's "Heaven on Earth", Najwa Najjar's "Pomegranates & Myrrh", Dilip Mehta's "Cooking with Stella", & Marc Webb's "500 Days of Summer".
The Team
Rebecca Haimowitz & Vaishali Sinha
Directors
Rebecca Haimowitz & Vaishali Sinha
Producers
Co-Executive Producer
Co-Executive Producer
Erin Heidenriech
Executive Producer
Myles Kane
Editor
Adri Thakur, Basia Winograd, Rebecca Haimowitz, Vaishali Sinha
Directors of Photography
Amritha Vaz
Music Composer
Cast and Credits
Coming Soon